Disgrace! Evertonians out of pocket after rule change.
By
Ian Phillips
• Aug 5th, 2013 • Category:
News
|
Evertonians have been left out of pocket after the International Champions Cup seemingly changed the rules of the competition, promoting LA Galaxy to the 3rd place play off on Wednesday, leaving Everton fighting for 5th on Tuesday.
Since the tournament was announced it has been billed as a knockout competition. With a tournament tree released (or bracket as they call it) clearly explaining who will play who.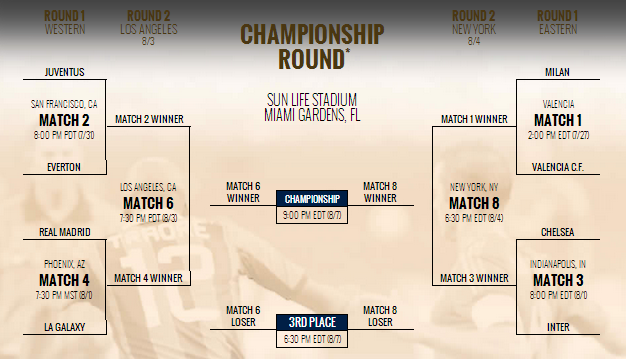 After the first round the International Champions Cup confirmed that Everton and Real Madrid would battle for a place in the final with the loser taking a spot in the 3rd place game: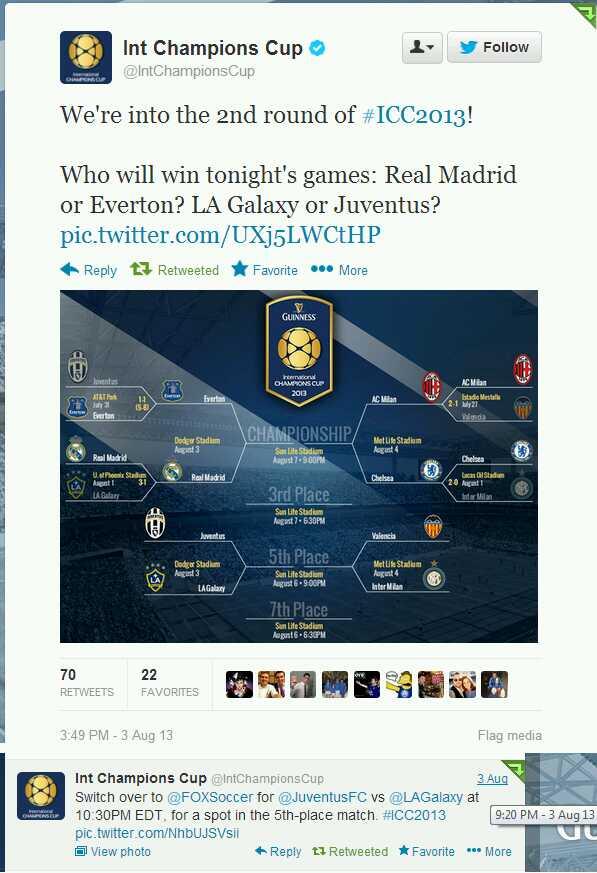 However despite @IntChampionsCup still tweeting about Everton playing for 3rd and LA Galaxy playing for 5th their website on Sunday morning showed LA Galaxy in the 3rd place position. Responding to tweets from Evertonians they confirmed that the website was correct and that they had made a mistake on twitter. The rules on the website now state that to decide who plays which game in Miami you are awarded 2 points for a win, 1 point for a defeat on penalties and 0 points for a defeat in 90 minutes. Should teams be tied their head to head record will be used followed by goal difference. This meant LA Galaxy play for 3rd by virtue of their 3-1 win over Juventus.
The ICC claim that the website has always had the correct rules on it and despite a few incorrect tweets the rules have always been clear, though their website still talks about "a series of elimination matches". They have never mentioned this points system before and are still yet to produce a table for this group system they claim they have always been using.
Further controversy arose in Everton's game against Madrid with Everton being denied a blatant penalty and having a goal disallowed just before Madrid scored a second which some believe to have been offside. This has lead to claims the tournament organisers wanted Madrid to be favoured due to their overwhelming popularity and ability to sell tickets.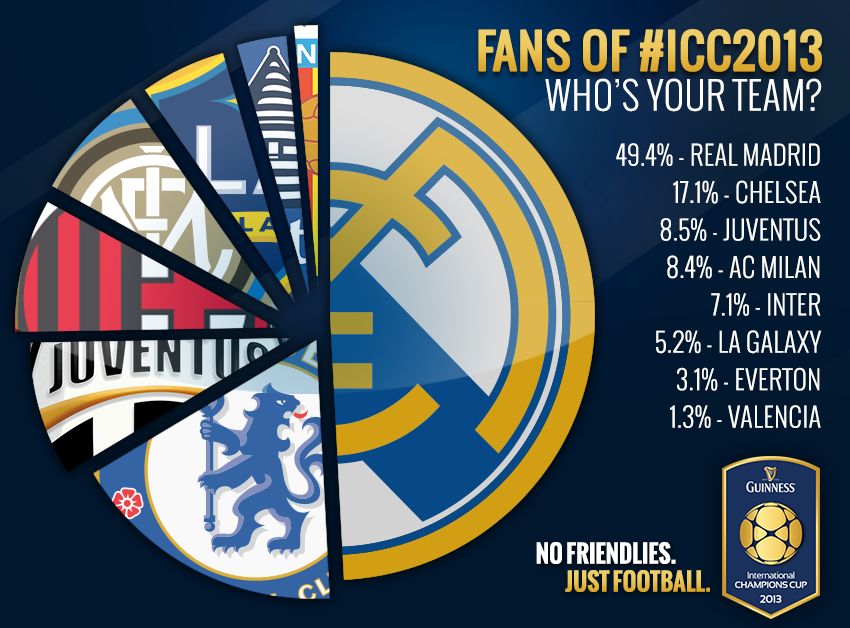 Many will claim "it's just pre-season it doesn't matter who we play" however Evertonians are being left out of pocket; Bradley Johnson has been left unable to watch the Everton game and stuck with flights to Miami and a hotel booking:
"We were always going to go but we didn't book flights or hotels as we knew the date was undecided. Once we beat Juve it was advertised that we would be playing on Wednesday so we've booked a holiday for 5 days and travel out on Tuesday arriving in Miami late Tuesday night. This means we completely miss our game. I was told I was not entitled to a refund as I didn't read the rules of the competition correctly in small print and Everton were never playing in the 3rd place game. They also said I was naive in booking flights for the game when it was general knowledge Everton could be in 5th place game!"
After strong pressure from Everton, with the club's new director of communications Alan Myers starting work today, the International Champions Cup have relented slightly and offered a refund for the match tickets or a swap for our game on Tuesday. This however does not help those who don't arrive in Miami until after the Everton game and have spent a fortune on hotels and flights.
Further confusion arose last night as fans tried to work out who we would be playing in the final game. Valencia and Milan finished on the same points with Valencia having the better goal difference however it is the Spaniards who we face as Milan beat them in the first round. Again the website displayed the incorrect information: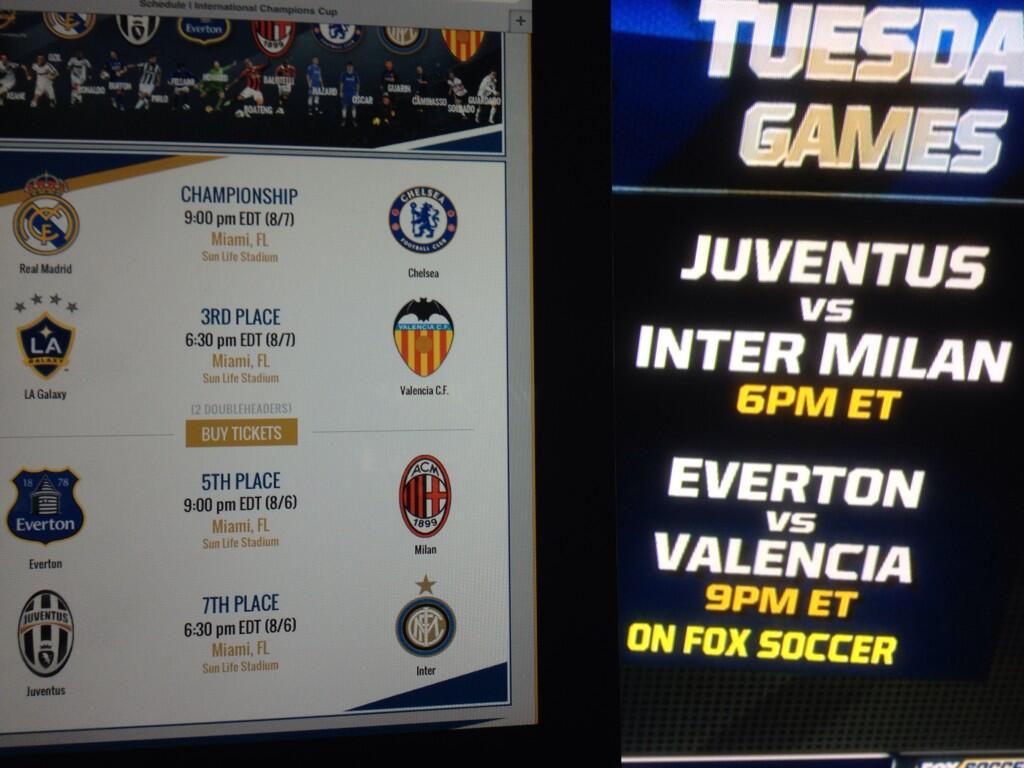 Our message to the International Champions Cup is as follows: This is not acceptable, refunding tickets is one thing (though even this your were practically forced to do), but you can not advertise a game that's not happening letting people spend extortionate amounts of hard earned money and then move the goalposts. Rather than going on about how the rules have never changed and were always on the website grow some backbone and admit your mistakes and compensate people like Barry. If you're going to host a tournament lay out clear rules and stick by them, even if shock results do mean you don't end up with the games you wanted.
2 Responses »
Anon on August 6th, 2013 at 2:06 am:

What a load of s***!!!! F***ing rule benders

alan buckle on August 6th, 2013 at 1:19 pm:

What do everton f c have to say about this , they must have know the rules so come out and tell the fans whitch set on rules are right.